Working close to aircraft engines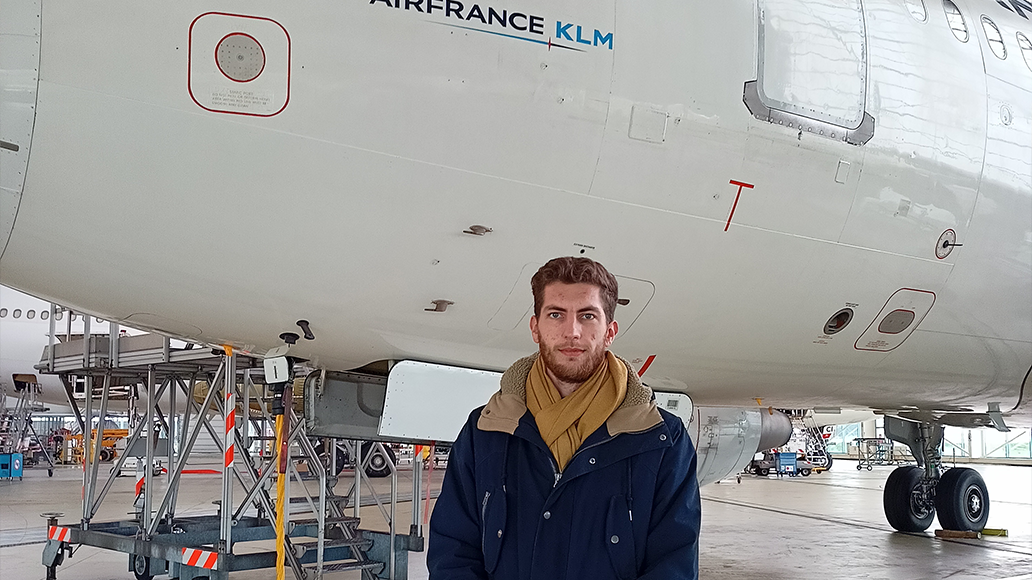 Bérenger Le Cozannet, a 2018 ESTACA graduate, is now a Maintenance Engineer at Air France Industries and shares his experience.
"After my end-of-study internship at Hop training in the Air France group, I applied for a position as engine maintenance engineer at Air France Industries. Working as close as possible to the plane and more so on the engines was just the best thing!
My main mission is to monitor the maintenance of aircraft engines. I provide technical support to the operators so that delicate maintenance tasks are carried out in the best possible conditions. This job is very varied. One part concerns engine reliability. I analyze potential defects following inspections, then set up tools to monitor and anticipate the problems. Another part of my job is managing operational issues, when the aircraft breaks down. We then have to react very quickly as the longer the plane is on the tarmac, the more it costs the company. Sometimes, we have to work on an aircraft stuck on the other side of the world with country-specific logistical constraints.
I also work directly with manufacturers on longer-term projects to improve operations. For example, every six months the Air France team visits Safran to work on improving aircraft engines. We study engine reliability and report any technical problems encountered. We present our technical problems to the manufacturer so that they can make modifications to their equipment and engines. It is also an opportunity to review the rules for using equipment to make engines more reliable (fewer delays and breakdowns), more efficient and with a longer service life."
« I love everything about my job and not one day is like the last! You have work quickly, find effective solutions, and it's very personally rewarding when everything works. »
Bérenger Le Cozannet
2018 Graduate, Maintenance Engineer, Air France Industries
Discover the Aeronautics program