Two student projects to revitalise small railway lines as part of a chair with SNCF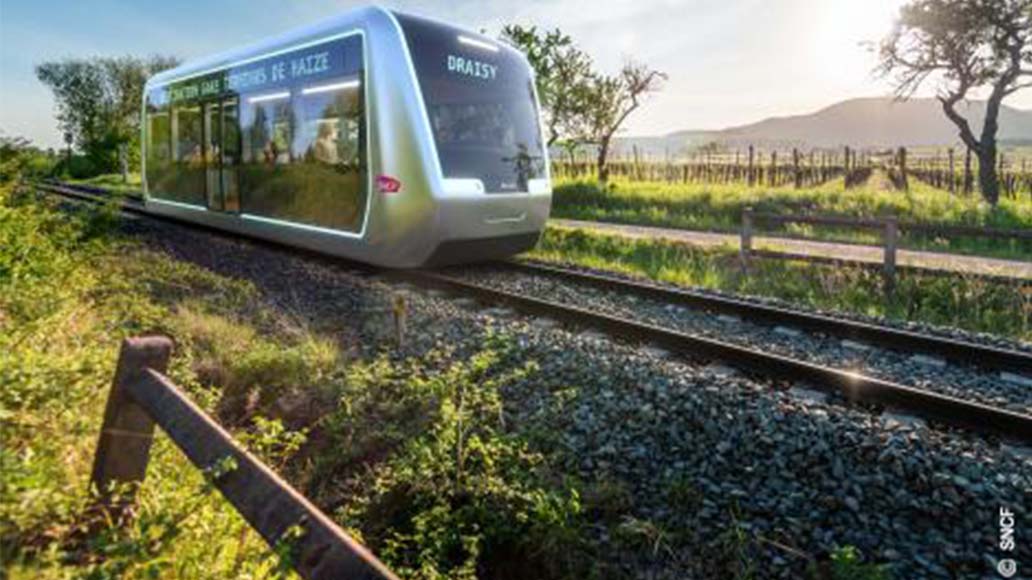 Imagining the trains of 2030 is the goal of the teaching and research chair associating ESTACA, L'École de design Nantes Atlantique and SNCF Voyageurs. Students from both schools have already proposed innovative train projects to revitalise the network of small French railway lines. SNCF Voyageurs has presented these projects and is planning tests.
A chair to design trains for 2030
The "Onboard Experience" Chair set up by SNCF Voyageurs, SNCF, L'École de Design Nantes Atlantique and ESTACA, aims to think about and design new interiors for train carriages by 2030 and propose innovative train concepts to meet environmental constraints. This chair aims at rethinking travel for sustainable AND desirable mobility. It includes facilitating platform/train exchange flows and on-board traffic, developing safe, eco-designed and attractive materials, developing low-tech, low-energy and attractive on-board comforts and services, and facilitating soft mobility and micro-mobility. Finally, the chair also aims to develop simulation and analysis tools.
Chairs are places where teaching and research, and the professional world come together. Their purpose is to draw up programmes aimed at developing an area of activity in which each partner contributes its skills and resources. The company gets privileged access to the resources and facilities of the schools' laboratories, specific training courses and a pool of students for internships and jobs… In the case of this "Onboard Experience" Chair, students have already been contacted for academic projects.
Based on specifications proposed by SNCF Voyageurs and/or SNCF, ESTACA 4th-year railway students at Paris-Saclay and 5th-year students specialising in ecomobility and vehicle lightening at Laval, worked on innovative projects to design new generations of trains to meet environmental constraints with students from the Bachelor's degree in Transport Design and Product Design and the Master's degree in City Design, Digital Design, Media Design, International Design Strategy and Food Design at the École de design Nantes Atlantique.
Two examples of work from the 1st Programme launched as part of the Chair:
Draisy, a very light train for (re)discovering short lines
The students took part in the Draisy programme: an ultra-light, modular train that can accommodate 80 passengers, with 30 seats. Draisy is designed for routes of under 100 kilometres with low traffic levels to allow stops on demand by increasing frequency. The use of new technologies and materials from the automotive industry will reduce weight. Equipped with an electric motor and on-board energy storage in a battery, Draisy will also reduce the environmental impact of the rail sector. Trials on a pilot line in the region are scheduled for 2025.
ESTACA 4th-year students in the rail sector worked to define and propose preconcepts for the project. They identified and sized general architectures. The results identified threshold effects on passenger capacity, structural mass, battery mass, energy consumption and cost. The aim was to help draw up general specifications for a mobile future, currently under development.
To see images of the current project: htps://www.youtube.com/watch?v=WY1tL_owEqQ&t=1s
Flexy: a rail-road shuttle
Another project currently being industrialised is Flexy: a road-rail solution to revitalise short lines.
The Flexy project aims to reuse small, disused railway lines, which vary in length from 10 to 30 km. The ultra-light shuttle has 14 seats and will be capable of running on both rail and road. Flexy will serve residential areas and villages located close to the railway line by leaving the tracks to use the road.
On this project, ESTACA 5th-year ecomobility students came up with the initial concepts for the flexible rail/road wheel… from the design phase to the production of a 3D drawing. Fifth-year rail students proposed preconcepts for simple, robust and low-cost operating systems, while at the same time respecting traffic safety, especially on the mixed Rail/Road platforms but also for rail traffic. Simulations were carried out to illustrate how the operating system and the security system work in the main use cases.
The current project in pictures: htps://www.youtube.com/watch?v=-5kRl2RxT70
Engineers and designers: complementary skills
Working on these concrete projects with students from L'École de design Nantes Atlantique enables future ESTACA engineers to learn about design-related constraints and look at projects from a different angle. For example, in the creative and ideation phase, designers use Design Thinking, a human-centred approach to innovation that involves users in a joint creation process. This methodology is now evolving towards circular design, which encompasses environmental and societal responsibility. For engineers, ecodesign methods need to be integrated into the creative process. For example, the Circular Design Programme is currently being used to propose eco-designed train interiors using recycled materials from local manufacturers, in line with the principles of territorial industrial ecology, an approach that aims to optimise resources in a given area using a systemic approach.
« Engineering students develop a wide range of skills on this type of project. Everyone has to work within the constraints of the other and understand the different ways of approaching specifications. They offer a great opening to the future with a strong presence of sustainable development in the development of tomorrow's transport. »
Bertrand Barbedette
Lecturer and researcher at ESTACA who coordinates the Chair's projects
Other projects are underway in this Chair, including a project to create space for more bicycles on regional trains, and a project to develop new night trains based on passengers' experience and expectations.