A New Vehicle for Formula Student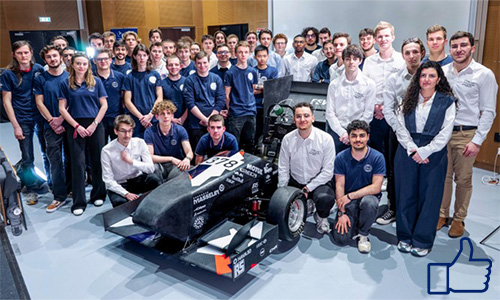 The ESTACA Formula Team, which has been taking part in the Formula Student for 10 years, presented its new EC-04 single-seater racer, aka "Genesis", at an inauguration evening. To improve the performance of this vehicle over its predecessors, the students have improved its weight, fit and efficiency.
A continuing adventure
At the beginning of March, ESTACA Formula Team (EFT) presented its new vehicle at ESTACA Paris-Saclay. EFT students are tasked with designing, building and operating a single-seater racing car to take part in Formula Student.
The aim of this international challenge is to design an innovative single-seater race car, to compete in a number of races throughout Europe, during which a jury of professionals from the automotive sector rate the vehicles in static (industrial feasibility, financial, etc.) and dynamic (racing) tests. The Formula Student challenge enjoys an international reputation and enables student engineers to apply their theoretical training in a fun and professional setting. For Thibault, the President, "it's a project that makes perfect sense in an engineering school". EC-04, aka "Genesis" is the fourth ESTACA vehicle designed by successive members of the association who have been taking part in the competition for 10 years. The aim is to design a vehicle that is ever more efficient and suited to competition.
In search of technical performance
For this new vehicle, EFT students opted to replace the carbon monohull with an all-tube structure, aiming for precision above all else:
"Today we're within a tenth of a millimetre of the suspension fixing points, which is quite exceptional for a "student job", even if we're well supported by the professionals at FASTER, one of our partners," explains Ghislain, head of the centre. For the wheels, they have managed to use carbon triangles instead of steel and "that means saving 1kg per wheel" explains Sam, who heads up the suspension team. They also worked on aerodynamics, and the geometry of the ailerons. Here too, the weight savings are considerable: they've reduced the original weight by two-fifths!
Experience that prepares for a career in engineering
As well as technical skills, this project provides experience in project management
in general. Pierre-Luc, head of the aerodynamics department, confirms: "EFT is like a mini-company with a range of skills: technical but also management skills." The number of corporate partners has increased significantly. Students benefit from this link with the professional world and from sharing skills in all areas, from design to manufacturing.
Today, the 55 members are more motivated than ever for this summer's Formula Student with a car that holds the road better and has gained in speed. They have also already started work on their next vehicle, the EC-05, which will mark the association's energy transition…