ESTACA signs a strategic partnership with the Zhejiang University (China)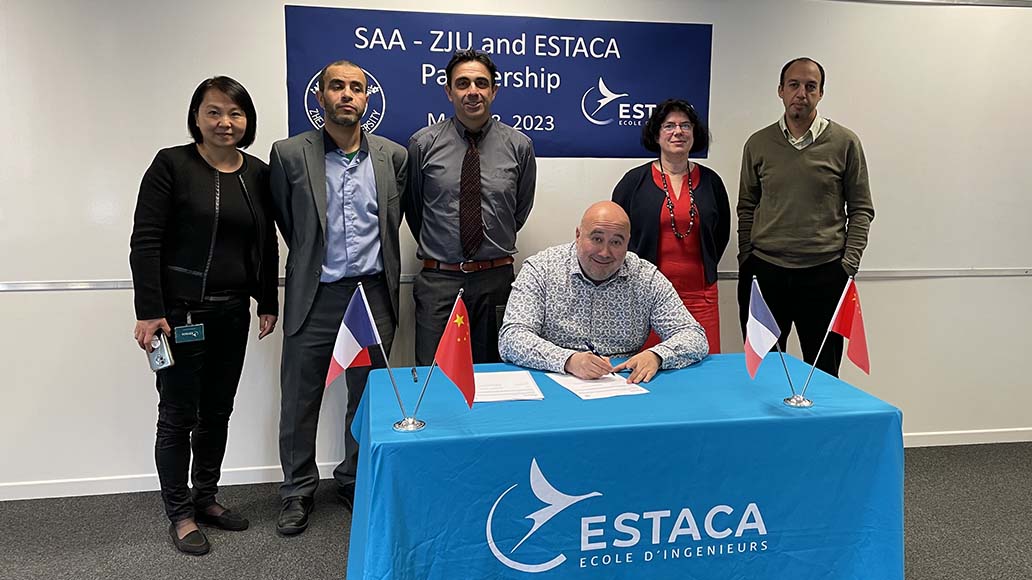 ESTACA signs a cooperation agreement with the Aerospace Faculty of the prestigious Zhejiang University, one of the best universities in China, based in Hangzhou. With this strategic agreement, ESTACA strengthens its cooperation network in Asia and particularly in China.
A new agreement to develop training and research exchange opportunities
This cooperation expands the academic partnership network for student exchanges: ESTACA students will be able to benefit from the knowledge and expertise of the foreign teachers and discover new teaching practices during an exchange semester in China. ESTACA and Zhejiang University also wish to set up other cooperative projects, particularly in research and innovation.
This partnership aims, firstly, to develop the following collaborative projects:
Internship in a laboratory
Student mobility
Thesis co-tutoring (2+2)
Joint research projects
Mobility for teachers-researchers
International conference
Secondly, the two schools will focus on pedagogical projects such as:
Double degree
3+2 study program
Post-Master Program
The Zhejiang University, an institution in the top 3 of Chinese universities
Zhejiang University ranks:
#3 in China according to the Shanghai 2022 World University Ranking
#6 in Asia according to the QS 2022 World University Ranking
#11 in Asia according to the Asia Time Universities 2022 ranking
#36 in the world according to the Shanghai World University Ranking 2022
#45 in the world according to the QS 2022 World University Rankings
Developing and expanding the cooperation network in Asia remains an important goal for ESTACA for multiple reasons: to enable our students, faculty, and staff members to discover the Asian market and to acquire multidisciplinary and intercultural skills and to diversify our teaching and research activities