The Minister of Transport, Jean-Baptiste Djebbari, visiting ESTACA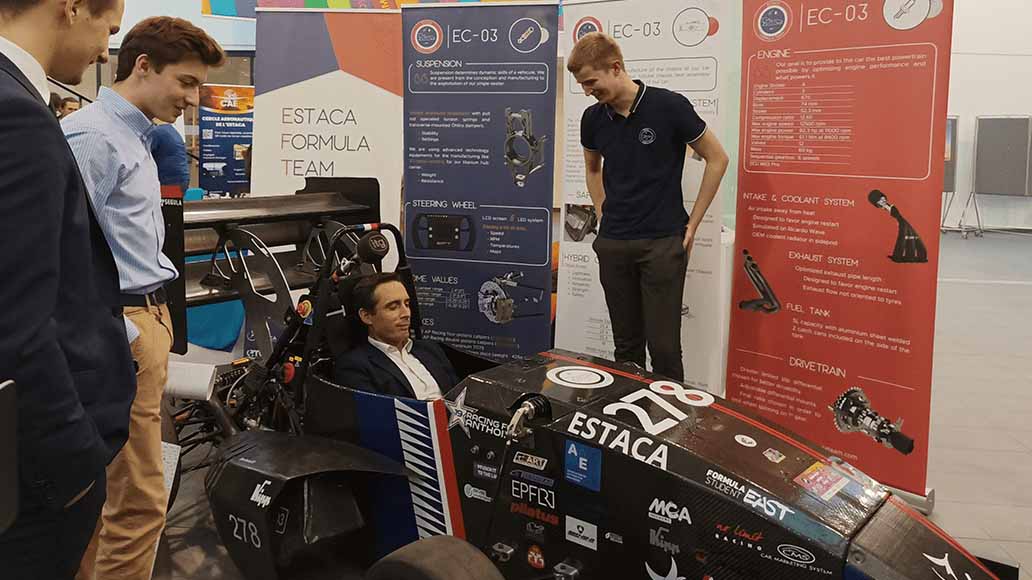 Jean Baptiste Djebbari, Minister Delegate for Transport, came to meet the ESTACA students on Thursday, March 17. He took the time to discover the associative projects led by the students of the school. He then answered the many questions that the 250 students gathered in the school's auditorium had about the future of the various transport sectors present at ESTACA: aeronautics, rail, automotive, space and naval.
Discovering the student organisation projects from the transportation program
After being welcomed by Jean-Michel Durepaire, General Director and Arnaud Marfurt, President of ESTACA, Jean-Baptiste Djebbari took a tour with Julien Léger, a 4th year student, to discover several of ESTACA's flagship associative projects. He talked with Baptiste VIignon, a 4th year student who presented ESTACA Space Odyssey (ESO). The association brings together students who design and build experimental rockets, CanSats, stratospheric balloons, experiments tested during 0G flights, etc.
He then discovered Guided Ways with Arnaud Potel who presented two technical projects developed by the association: SARDINE, an educational train driving simulator that reproduces the dynamics of the railway, and RENARD, an interactive model railway circuit that represents the French railway system. Sierra, the robotics association and ESTACA Modelisme, which builds radio-controlled models, presented their project participating in the Drone Load Challenge organized with Safran Electronics & Defense and Squadrone for TAXI DRIVER 2024. Élodie Brunot, president of the Cercle Aéronautique de l'ESTACA, outlined the association's aerial activities: glider weeks, industry visits and conferences, and air rallies. Amaury Desroches, a 3rd year student, presented the activities of ESTACA Formula Student (EFT), which designs, builds and operates a single-seater race car to participate in Formula Student, the world's largest inter-school competition involving more than 500 engineering schools. Finally, the ESTACA Junior discussed its research activities and projects carried out for companies.
Discussions between the Minister and the students
The evening's highlight was the long conversation with the students in the school auditorium. The students were free to ask the Minister all their questions about the future challenges for the transport sector. The Minister recalled that the crisis had revealed new needs for transport, "you are lucky to be in a school like ESTACA and to have great challenges to take on in order to transform the transport sector, my generation did not have the same stakes before us! ". Through the questions of the students, he addressed the necessity to decarbonize all transport, the future of river transport, the need to develop rail freight in France, the role that hydrogen will play in the development of future vehicles, France's good position in NewSpace and the deployment of micro launchers, the government's idea to develop different solutions like low priced long term car rentals which would allow the petrol cars that pollute the most to be replaced.
An evening full of discussions on the future and challenges that lie ahead in the transport sector!
Discover our engineering courses