Study day on decarbonization in the railway sector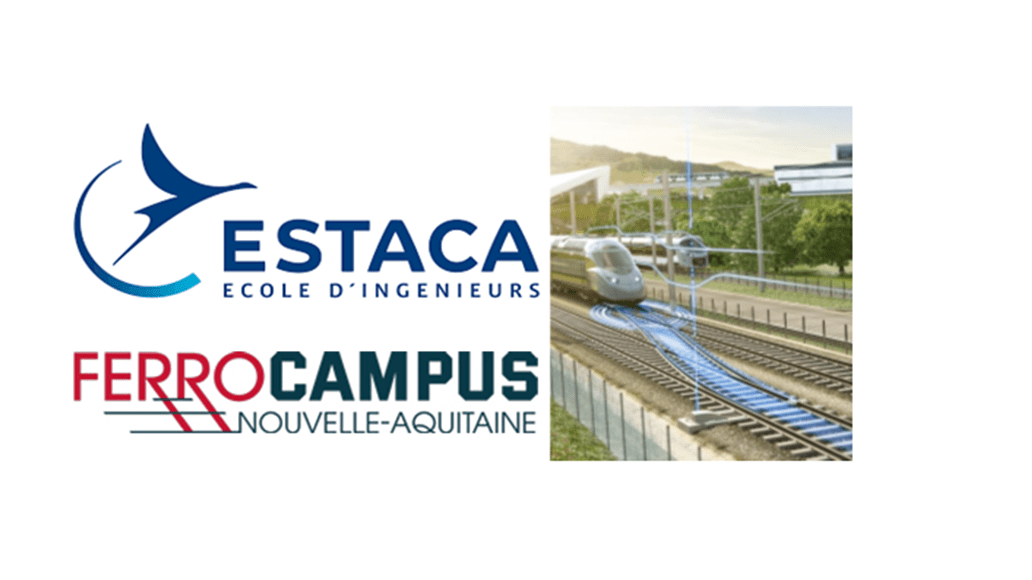 Rail transport is already a low-carbon mobility solution, but how can we go even further? To answer this question, a day devoted to decarbonization was organized in April on the Ferrocampus in Saintes by ESTACA and the EIGSI. Objective: to bring together key stakeholders in the sector to share research, innovation and experimentation topics.
The Ferrocampus, a European center of excellence dedicated to railways
The Ferrocampus Nouvelle Aquitaine is a unique center for railway expertise in Europe, of which ESTACA is a founding member.
A European center of excellence for research, innovation, experimentation, training and attractiveness of the railway industry, its objective is to unite, federate and coordinate companies in the market at regional, national and European levels, on a strategic site at the heart of the railway hub.
The project on sustainable, connected, autonomous and low-carbon rail mobility was launched in 2020 to structure the rail industry in the face of the challenges of new mobility, based on interaction between organizing authorities, operators and managers, academic players and manufacturers.
A day devoted to decarbonization in the railway sector
On April 5, ESTACA and EIGSI organized a day of exchanges in Saintes to explore further decarbonized rail mobility and share research, innovation and experimentation topics.
The day brought together participants from various backgrounds:
Industrial companies such as: SNCF, ALSTOM GERDF, NEXEYA, Europe's rail, …
Organizations and authorities such as: ADEME (Environment and Energy Management Agency), Aquitaine Regional Council, EPSF (French Railway Safety Authority), FIF (Federation of Railway Industries), …
The I-trans competition cluster
Higher education and research institutions: ESTACA, EIGSI, ENPC, …
It addressed four themes:
The context of decarbonization in France and in Europe (progress and challenges around decarbonization)
Synergies, levers and obstacles (life cycle solutions)
Prospective energy solutions
Implementation in the regions
ESTACA and EIGSI co-hosted a session as part of the section devoted to prospective energy solutions. They presented guidelines on battery integration and the concept of hybridization, an essential link in the development of green, sustainable and intelligent mobility. These subjects are related to the research themes of the S2ET (Energy and Embedded Systems for Transport) cluster at ESTACA.
The day enabled the topic of decarbonization to be fully explored, from the regulatory framework with the vision of local authorities and actors, to technical and technological solutions, not forgetting implementation and integration in the regions.
The next step will be devoted to forming project teams (consortia) to meet the challenges identified and answer possible calls for projects.
For more information about FERROCAMPUS, please contact Prof. Toufik Azib
Discover our Railway course