New partnership with Colas Rail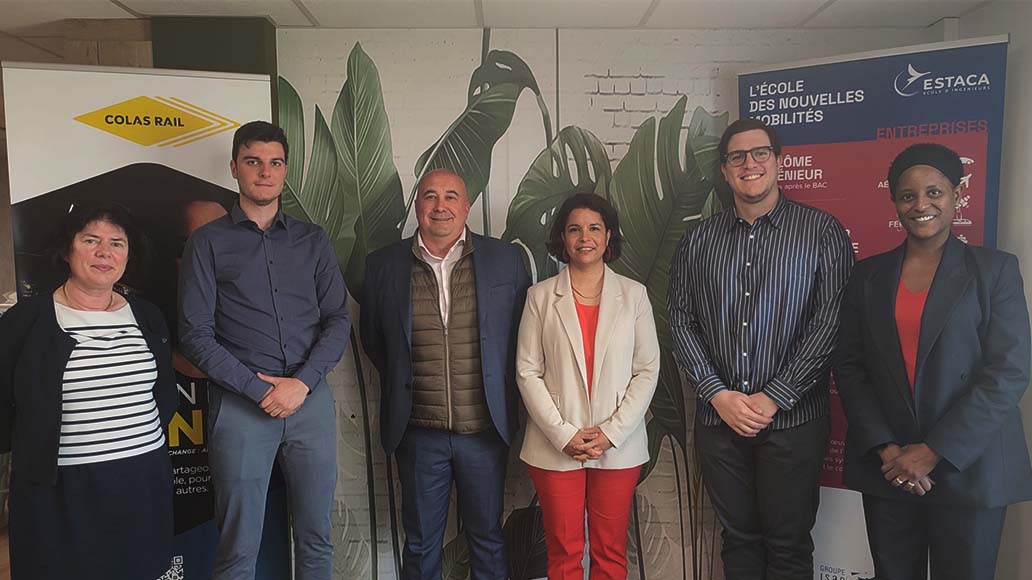 On Tuesday, April 19, 2022, ESTACA and Colas Rail formalized their collaboration by signing a three-year partnership agreement at Colas Rail's headquarters in Courbevoie, in the presence of Jean-Michel Durepaire, CEO, Anne de Cagny, Director of International and Partnerships, and Maïmouna Bah, Head of the Corporate Relations Department, for ESTACA Colas Rail was represented by Hervé Le Joliff, President, Anahi Sandoval, Human Resources Director and Xavier Collette, Recruitment and School Relations Officer.
Several years' collaboration formalized by an agreement
This agreement between the Ecole Supérieure des Techniques Aéronautiques et de Construction Automobile and Colas Rail, an international leader in rail infrastructure with 5,600 employees in more than 20 countries, formalizes several years of exchanges and collaboration.
Colas Rail regularly participates in school life and in events organized by ESTACA. The company offers many internships, is present at the company forum, takes part in the diversity day and in job interview simulations provided to students as part of preparation for their professional career. It also actively supports the ESTACA student rail association, Guided Ways.
The goal is to continue to develop close ties with through site visits, targeted events, the development of internship offers in France and abroad and the recruitment of engineering students from the School.
New actions to develop the railway sector
Both partners aim to develop joint actions around Colas Rail's values: Care, Share and Dare. Three main axes are planned:
Fight against discrimination: diversity, gender, inclusion and disability;
International;
Sustainable and clean mobility.
The objective is to promote this field, which does not attract enough people to meet the very high demand for engineers in the sector. The rail sector offers significant career opportunities for innovative and low-carbon transport, both in France and abroad. TGV, tramways, automatic metros, mechanical lifts, carousels, are all means of guided and rail transport that offer interesting perspectives for engineers with a taste for a technical challenge.
Discover our Railway course